World renowned Austrian pianist Alfred Brendel joins the Venta Family along other musical artists such as Nigel Kennedy and José Carreras.
As a musical artist, there are many factors that affect the sound and performance of your instrument or voice. For piano players, violin players or guitar aficionados, indoor air moisture is an exceptionally important element that can either preserve or harm precious instruments. Singers also rely on hydration and indoor moisture as significant factors that affect their voice quality.
Whether you're just starting out as a novice guitar player or are a world renowned pianist like Alfred Brendel, indoor air quality and proper humidification is paramount to performing at the best of your ability.
Alfred Brendel Joins the Venta Family
Austrian pianist, poet, and author Alfred Brendel joins the Venta Family along with other world-class musical artists Nigel Kennedy and José Carreras. Brendel's website describes the kind of impact he has had on the world-wide musical community:
"Alfred Brendel's place among the greatest musicians of the twentieth and twenty-first centuries is assured. Renowned for his masterly interpretations of the works of Haydn, Mozart, Beethoven, Schubert, Brahms and Liszt, he is one of the indisputable authorities in musical life today and one of the very few living pianists whose name alone guaranteed a sell-out anywhere in the world he chooses to play."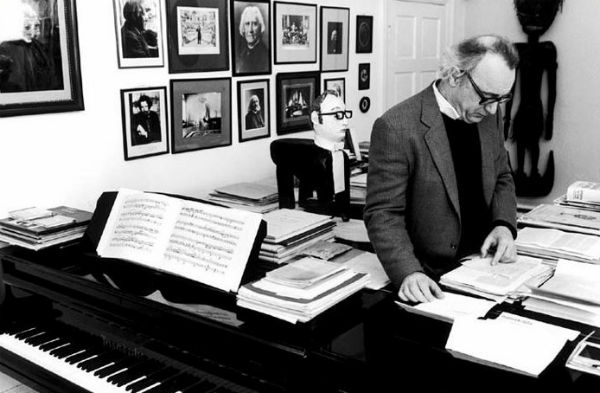 Venta is lucky enough to call this global music figure one of our own. Having Alfred Brendel as part of our Venta Family is an honor. We were especially grateful to receive this testimonial from him:
"Of all birthday gifts the Venta Humidifier was the most helpful (useful) one."
Our humidifiers are the premium choice for musicians and singers who need to keep their indoor air perfectly humidified. Our humidifier works off a revolutionary cold-water evaporation system that makes over-humidification virtually impossible. There is never a concern of white dust, warping, or mold on furniture and instruments.
Venta Receives Praise from Across The Music Community
Plenty of musicians and singers have turned to Venta for their instrument and vocal maintenance:
"Wherever I perform in the world: my agents are required to provide Venta Humidifier, because my priceless violin needs the best possible environment. Only Venta gives me the peace of mind that the air humidification will be perfect." -Nigel Kennedy violinist

"I can recommend the Venta Humidifier without hesitation. I have tried out a large number of air humidifiers and air purifiers. As far as I am concerned there is nothing better than the Venta Humidifier. It protects me from dry and bad indoor air. I noticed that particularly in Germany, when I appeared in the Classic Night in Aschaffenburg." -José Carreras, Tenor

"A Venta humidifier is one of the best investments I have made. It is a lifesaver for my concert Steinway pianos – rescuing them from the typical dry climate of South India. Venta provides a quick and consistent way of balancing humidity all through the year. Although it runs quietly in the background, it is the most important reason why my instruments stay in tune longer and preserve their rich singing sound." – Timothy Birendra Marthand, Pianist

"Brilliant design, very easy to use and maintain… I liked the first one I got so much that I bought a second one for my workshop.. I have used almost every type and brand of humidifier and the Venta outshines them all not only for being as simple and effective as possible, but in the ability to both clean and humidify the air. Every time I clean it out I am amazed what it is able to collect… I HIGHLY recommend to everyone." –Chicago Bass Works owner Andrew Hassel

Image Source: Andrew Hassel, Chicago Bass Works

"This is a great item for a singer to own. It both reduces the air pollutants and hydrates the air. Singers are so sensitive to allergies, dryness, and colds. All of these situations can really affect our singing performance. I think the Venta Humidifier gives the singer control over their environment so that they can rest assured to be breathing great clean, hydrated air in their own space." -Ariella Vaccarino, opera singer & owner of Voice Lessons to Go

"I'm a classical pianist with an expensive instrument in a pre-war New York apartment. There are three things that are absolutely essential under these circumstances.

1. An expert piano technician. 2. A humidifying system attached to the underside of the Steinway. 3. A Venta Humidifier

I, every pianist I know, and even piano stores, regard Venta as our best option for the humidity we require for our instruments! And there is of course the fringe benefit that the additional humidity makes humans feel a lot better as well. I no longer have the dry, cracking skin I used to suffer from in the winter! Even if you're not a pianist, if you are living in an environment that is too dry, Venta is your best option!" -Jeffrey Goldberg, Classical Pianist

"The Venta LW25 unit – I have two of these units and they are, without being too dramatic, a Godsend. I have an 850 sq. ft. unit in an 80-year old building, with 9″ ceilings. I also have a collection of 133 guitars, representing 35 brands and 7 countries, the oldest being an 1870 parlor guitar, and they all need an environment of 71degrees F, +/-= 2.0 degrees, and 46%RH. For years I have been using all the tricks in the book to maintain these temps by using weather stations in my living room and the main collection room (the bedroom), plus A/C, the differences in RH & temp from natural sources (opening and closing windows). Still, about 10 years ago we had a terrible winter that left the collection at the mercy of 17% RH for a few days. I was reduced to putting pans of cold water on my steam radiators!

I knew I had to alleviate this situation, and, I went online, looking for the best answer. I looked at a few until I saw the Venta site. When I logged on, I saw what I believed to be the perfect answer to my problems, the Venta LW25. I read not only of the way it worked, so simple yet ingenious, but found that virtuoso violinist Nigel Kennedy, a uniquely talented man I had heard play at a local theater a few years prior, insisted on Venta units in both home and in performance. Well, if it's good enough for Nigel, they were good enough for me. I purchased the 25's and now, no matter the weather, I have obtained a yearly average, for the entire apartment, of 70 degrees F, 50%RH, and my instruments have never been happier.
I'm even using my Venta's as evidence in a dispute with Martin guitars. I purchased a $5,000.00 Martin OM-18 1933 Authentic, and when I received it, it was uncomfortable to play, and when I sent it back, they casually told me the fingerboard was warped! And, to add insult to injury, they blamed me for the problem. So, I am using my Temp. And Humidity information from the Ventas to press my case.
Finally I want to thank everyone at Venta for the great products, the great people, and the great service. Oh, and all my guitars thank you too!" -Fred Lichtenberg, Guitar Collector
Do you use the Venta Humidifier to preserve precious instruments in your home, studio, or workshop? We'd love to hear from you!