AS150 AirSense PRO Air Quality Sensor
COMING SOON
High-quality indoor climate and air quality meter with eight professional sensors: particulate matter PM1.0, PM2.5, PM10, carbon dioxide CO2, VOC gases, formaldehyde, humidity, and temperature
Measured values clearly indicated in real-time by colored LED light strip
Detailed information about individual measured values available at glance in the Venta Home App
Detailed analysis of measured values and recommended actions for healthier indoor air accessible in the Venta Home App
Can be used with or without Venta humidifiers, purifiers, and hybrid devices
$349.99
Out of stock
Want to be notified when this product is back in stock?
Free shipping within the contiguous US when you spend $75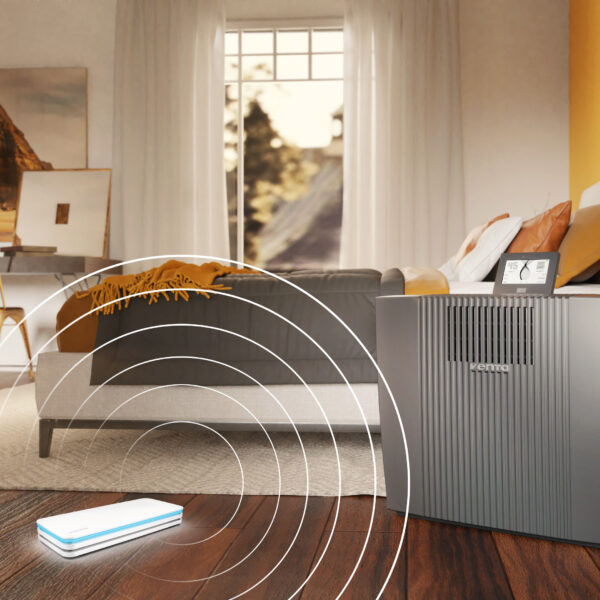 VENTA AIRSENSE PRO - YOUR ADVISOR FOR HEALTHIER INDOOR AIR
As indoor-air experts, we not only help you to ensure optimal indoor air with Venta Humidifiers, Airwashers, and Air Purifiers – we now also inform and advise you on indoor air quality via our AirSense system.
Look for the green light as your AirSense device measures, monitors, and analyzes airborne substances, the indoor climate, and environmental influences in real-time, and alerts you to changes in air quality. It is your professional measuring device for indoor air quality and climate – your advisor for healthier indoor air. AirSense can be used independently of Venta Humidifier, Airwasher, or Air Purifier appliances.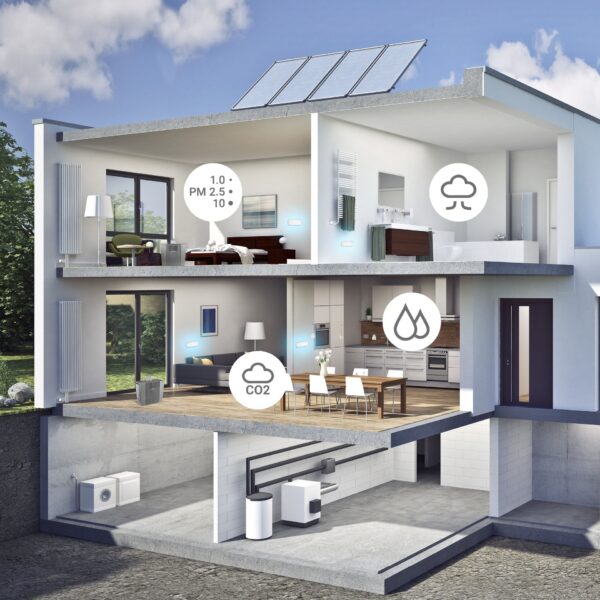 STAY INFORMED ABOUT HARMFUL SUBSTANCES IN THE AIR
From humidity and particulate matter to CO2 levels – numerous factors have an influence on air quality.
Via eight professional sensors, the AirSense Pro reliably measures, monitors, and analyzes particulate matter (PM1.0, PM2.5, PM10), carbon dioxide (CO2), formaldehyde, VOC gases, humidity, and temperature in real-time. The system thus reveals the source of air pollutants and promotes healthier living.
The respective measured values are displayed via the color of the LED light strip on the Venta AirSense. If a value is optimal, the light strip turns green. If a value enters the acceptable range, the LED band turns yellow. If a value is critical, the light strip turns red and you will see a warning message in the Venta Home app. The AirSense provides you with a detailed overview of the indoor air quality at all times.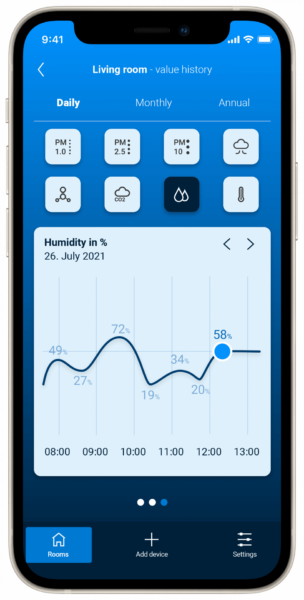 EVERYTHING AT A GLANCE WITH THE VENTA HOME APP
The Venta AirSense Pro records indoor air data, which you can view at any time in the Venta Home app. As a result, you will immediately know when conditions in a room have reached a critical level and need to be corrected. When this happens, the Venta Home app recommends specific actions to take and provides information about the possible causes. A look at the app, for example, the CO2 content is elevated – time to open some windows.
The Venta Home app analyzes the measured values for specific time periods – with hourly, daily, and monthly evaluations. This reveals regular changes in air quality caused by everyday activities and makes it possible to adopt a healthier routine.
COMPLETELY INDEPENDENT - EVEN WITHOUT VENTA DEVICES
Don't have a Venta Humidifier, Airwasher, or Air Purifier yet, but still want to keep an eye on the air quality? Venta AirSense is the right solution as it works independently of our air quality appliances.
The device provides information via the Venta Home app regarding the indoor air quality – for example, whether the air quality in the children's room or living room is acceptable and when you should air the space. It also provides information on when an air humidifier or air purifier would be a worthwhile investment.
| MODEL | AS100 AIrSense ECO | AS150 AirSense PRO |
| --- | --- | --- |
| Colors | White | White |
| Temperature sensor | + | + |
| Humidity sensor | + | + |
| VOC gases sensor | + | + |
| Formaldehyde sensor | - | + |
| CO2 sensor | - | + |
| Particle matter sensor (PM1.0, PM2.5, PM10) | - | + |
| Dimensions (L x W x H) | 8.2 x 3.3 x 1.1 inches | 8.2 x 3.3 x 1.1 inches |
| USP plug-in power supply | Power supply + cable + interchangeable plugs | Power supply + cable + interchangeable plugs |
| Input | 100-240V ~ 50/60Hz, 0.3A max | 100-240V ~ 50/60Hz, 0.3A max |
| Output | 5V ⎓ 1.0A (5.0W) | 5V ⎓ 1.0A (5.0W) |
| WiFi standard | IEEE 802.11B/G/N | IEEE 802.11B/G/N |
| WiFi frequency bands | 2.4 GHz | 2.4 GHz |
| WiFi transmit power | Maximum 20 dBm | Maximum 20 dBm |
| Battery | None | None |