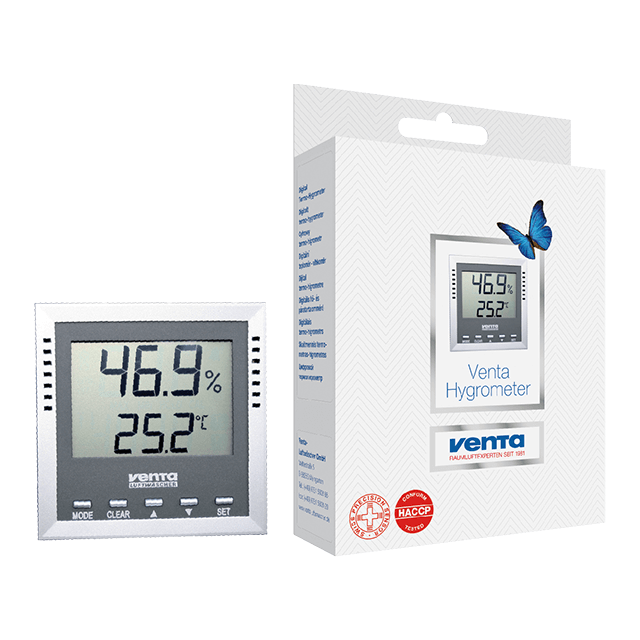 Hygrometer
Digital hygrometer
Overview of room temperature and relative humidity
Dew point and wet-bulb temperature display
Ideal for monitoring climate in interiors
Helps prevent mould
Helps save heating costs
High precision
Sleek design
Alarm function for all parameters
Temperature in Celsius (°C)
Dimensions: 10.5 x 10.5 x 2.5 cm
Available, delivery time: 1-3 working days
Hygrometer – the humidity meter for an ideal room climate
The high-accuracy Venta hygrometer is the ideal instrument for measuring temperature and humidity in rooms. It reliably detects and displays even the smallest changes in these parameters. So you can check the climate in your home at any time to ensure your comfort.
The devices measure not only humidity and temperature, but also dew point and wet bulb temperature. These values tell you how far you can lower the room temperature before the humidity rises.

All values are continually monitored, and the latest maximum and minimum values are saved. You can keep a constant eye on all units and react to changes by ventilating the room or turning up the heating as required. This is how you can prevent mould in your house and save money on heating.

The hygrometer comes in a sleek design. Measuring 10 x 10 cm with a depth of 2.5 cm, it is so compact that you can install it unobtrusively almost anywhere.