If mold begins to form in your home, that's a problem. Usually, it is more than the visual aspect that suffers. This can also bring unwelcome consequences for your health. Discover how you can eliminate mold and how to prevent it.
HOW DOES MOLD DEVELOP?
Mold forms from excessive humidity indoors. A common reason for mold growth is improper ventilation and heating. But building defects, defective roofs, cracks in the masonry, or damage to water pipes can also be the culprit.
The first indication of mold is typically a musty smell as well as stains on walls, joints, furniture, or other objects.
HOW DANGEROUS IS MOLD?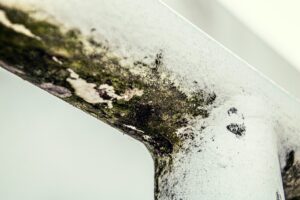 If you notice mold in your home, you should remove it as soon as possible. Not only can it be found in the respective place, but mold spores can also spread through the air. If these are inhaled, they can trigger allergic and irritating reactions in humans and even lead to respiratory problems. It is then all the more important to act.
WHAT TO DO ABOUT MOLD
For smaller areas and if the cause does not come from serious construction defects, you can remove the mold yourself.
Be sure to wear protective clothing such as gloves, safety goggles, and an FFP3 respirator. This will prevent you from inhaling mold spores.
Remove or cover items such as furniture or toys from the room.
Treat the affected area with an anti-mold agent according to the instructions for use. Note: In order to avoid mold spores getting into the air, you should not remove the affected area dry, but spray it well.
During and after applying treatment, ventilate the room well and wash the protective clothing thoroughly after use.
If your own measures do not remedy the situation, or if the area has a significant amount of mold, it is advisable to seek professional support.
AIR PURIFIERS FOR PROTECTION AGAINST MOLD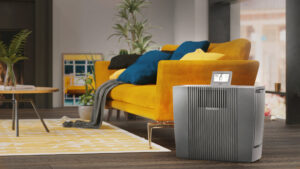 If you have had or currently have mold in your home, an air purifier can help you effectively eliminate the invisible mold spores from the air. When purchasing, ensure that the air purifier captures high-quality HEPA filters and particles between 0.10 and 0.30 microns (µm). If you notice a musty smell, we also recommend using an activated carbon filter, which removes unpleasant odors.
Our AP902 Professional Air Purifier meets these criteria and removes 99.995% of air particles down to 0.07 µm in size. Optionally, you can buy a VENTAcarb activated carbon filter. This gives you clean air, free from musty odors and mold spores.
Note: Air purifiers can only treat the symptoms, not the root of the problem.
HOW TO PREVENT MOLD WITH THE OPTIMAL INDOOR CLIMATE:
The ideal humidity is between 40 and 60%. The higher this is, the higher the risk of mold growth. Therefore, make sure that you do not dry laundry in rooms that are already very humid and that you ventilate properly. You will also want to monitor the humidity regularly, especially if there are any suspicions. With a hygrometer (digital moisture meter) you can always keep an eye on it.
Do you have a Venta Humidifier or Airwasher? Don't worry! Our humidifiers work on the principle of cold evaporation.
HEAT PROPERLY
Heat your living room and bedroom to at least 65°F ​​during the heating season. The temperature should not be less, otherwise, the risk of mold growth increases.
VENTILATE REGULARLY
Proper heating and humidity levels include proper and regular ventilation. This allows excess humidity to be transported out of the living space. Instead of ventilating over a longer period of time and with a tilted window, it is better to ventilate the room more often. This is especially important after showering or cooking.
IDEAL SETUP
Do not place furniture directly in front of the radiator and against cold outside walls. These should be about 2 to 4 inches apart so that the air can circulate freely in the room and the risk of mold is reduced.