Who can resist? When the temperatures drop, a crackling fire creates a cozy atmosphere and makes cold winter days much more bearable. Wood-burning stoves and fireplaces have a far greater influence on the indoor climate than you might think. They can quickly dry out the air and also increase levels of CO2 and particulate matter. This not only has an unpleasant effect on the indoor climate, but it can also affect your health. We'll show you how to maintain a comfortable climate throughout your home while you enjoy a pleasantly crackling fireplace.
THE EFFECT THAT HEATING WITH WOOD HAS ON INDOOR AIR
If you use a wood-burning stove or fireplace during the cold winter days, you should pay even more attention to maintaining the ideal temperature, as well as ventilating regularly. This is because burning wood usually draws oxygen from the indoor air to prevent the fire from going out. That means that the level of CO2 in the air increases and must be replaced with fresh air.
In combination with the heat, the indoor air can fall below the recommended 40-60% humidity and become too dry – this is so-called "dry heated air". The low humidity can be experienced as unpleasant and irritate the mucous membranes. That is one of the reasons why we get sick more often during the winter.
Besides excessively dry air and increased CO2 levels, there is also a third factor: particulate matter. This is produced when wood is burned and has a significant impact on your air quality and health. According to the German Federal Environment Agency (UBA), it has now been proven that particulate matter has a negative impact on health and can cause asthma, allergies, cardiovascular problems, and even lung cancer.
HEAT THE FIREPLACE CORRECTLY TO REDUCE HAZARDOUS PARTICULATE MATTER
You can actually do something to somewhat reduce particulate matter emissions. Try to avoid improper use such as overfilling the stove or fireplace, adding new logs too late, and improperly igniting or burning newspaper. The way you store the firewood is also important and makes a difference. Use dry wood that is properly stored, for example not directly leaning against the wall, as this will produce fewer emissions when they burn. It also helps you to reduce particulate matter. The optimal solution for filtering fine dust and other harmful substances from the air is an Air Purifier or Airwasher.
THE CONVENIENT WAY TO CREATE GOOD AIR QUALITY
Our Airwasher will help you to always have good, clean indoor air and still be able to enjoy the warmth of the fire. It provides both optimal humidity and clean air. Does the air contain an excessive amount of particles such as dust, fine dust, and/or ash particles? Or is the air perhaps too dry? No problem, because the Airwasher responds in real-time to low humidity and high pollutant levels. If this is the case, it independently adjusts its performance accordingly and automatically humidifies or purifies your air.
Do you want either just clean air or optimal humidity? Then you can rely on our air humidifiers or air purifiers. The air humidifier helps you achieve and maintain optimal humidity all year round, whereas the air purifier ensures clean and pure indoor air (which eliminates 99.995% of airborne pollutants). If necessary, the air purifier can also be equipped with an active carbon filter. This filters out unpleasant odors that can result from heating with wood or coal briquets, down to 0.0002 microns.
HOW TO CONSTANTLY KEEP TRACK OF ALL IMPORTANT AIR FACTORS: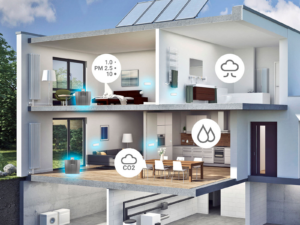 In order to be able to continuously monitor the various factors such as temperature, humidity, CO2, and particle level of the indoor air, we recommend AirSense, our professional air quality meter. Is the CO2 level of the indoor air too high and needs ventilation due to using the fireplace? Then you will receive a recommendation regarding what to do via the app. The air quality meter AirSense measures, monitors, and analyzes airborne substances, the indoor climate, and environmental influences in real-time, and alerts you to changes in air quality.