Evaporative humidification is well-known for being the best method of humidification. Unlike traditional humidifiers, evaporative humidifiers do not run the risk of producing mold, bacteria, ions, ozone, or white dust. Discover why Forbes Vetted has recognized the Venta LW25 as the best humidifier overall.
A Plethora of Choices
It is no secret that air humidifiers boast many benefits, but with dozens of choices on the market how do you choose? Not only are there many brands to choose from, but there is also a wide variety of humidifier types. Luckily, Forbes Vetted has done the research and has recognized the Venta LW25 as the best overall humidifier. Along with the LW25 Original, the LW15 and LW45 from the Original Series humidify indoor air through evaporative humidification, without the use of filters. This method of humidifying also helps to naturally reduce indoor air pollutants, such as dust and pollen.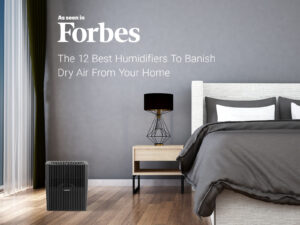 From Forbes. ©2021 Forbes. All rights reserved. Used under license. From the Forbes Vetted Contributor Group. Opinions expressed by Forbes Contributors are their own.
More Options from Venta
Venta offers another humidifier line that offers the same natural evaporative humidification: Comfort Plus. Just like the Original Series, the Comfort Plus line operates by way of a fan and water wheel, or disc stack. The disc stack(s) rotates in the water reservoir where it collects the water to be distributed back into your space. The Comfort Plus line, however, comes with additional convenient features. The top of the unit has a digital touch display, a built-in hygrometer, a built-in hygrostat, as well as auto and sleep modes.
Shop our complete line of products here!