June 26, 2021, marked exactly 40 years since Fred Hitzler founded the Venta company (then known as Ventax) in Weingarten. Initially started in a garage, the Swabian engineer developed the first models of Airwashers along with their revolutionary technology, which has remained largely unchanged. Since then, Venta has helped improve indoor air in many countries worldwide – including the USA, France, Great Britain, the Netherlands, as well as in Asia.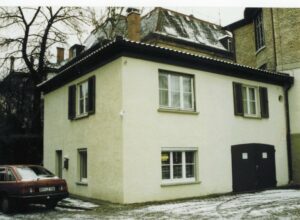 After the first steps in the local environment, the awareness and quality of the Airwashers "Made in Germany" quickly grew beyond the borders of the region and Venta products were on the shelves of electrical retailers all over Germany. The "hidden champion" from Baden-Württemberg is still family-owned and employs more than 120 people today. Around 300,000 customers across the world enjoy Venta products.
A brief overview of the milestones in Venta's history:
June 26, 1981 Foundation established in Weingarten
1982 First delivery of Venta LW30 Airwashers
1996 The 500,000th Airwasher goes on sale
1995 Venta enters the Netherlands' market
1998 Venta enters the United States Market
2003 1,000,000 Airwashers sold
2004 Construction of the new company headquarters in Weingarten
2015 First air purifier is produced
2020 New management and further international expansion
2021 Venta celebrates 40 years
"Venta is on a very good path," says founder Hitzler. "With our new CEO Andreas Wahlich and his team, we will continue to provide clean and good indoor air with our Airwashers and air purifiers for many customers all over the world. "
Currently, Venta is a household name for air humidification and air purification throughout the world.
"Fred Hitzler first developed a successful product from an ingenious idea and then founded a company, which is a great achievement," says CEO Andreas Wahlich. "To work in such a family business and lead it into the future is a task that fills my team and me with great joy. We are looking forward to the next 40 years."
Venta-Luftwäscher GmbH, based in Weingarten, Baden-Württemberg, has been developing and selling indoor air humidifiers and air purifiers in Germany for over 40 years. The company employs 120 people in the group including subsidiaries in the USA, Switzerland, Austria, and the Netherlands.