Discover air purification superior to HEPA standards with the Venta Kuuboid XL Max air purifier, featuring revolutionary Nelior Filter technology.
For years, Venta has made a name for itself manufacturing the Venta Humidifier. With the growing concerns in air quality around the globe, we took this into consideration in developing a stand-alone air purifier that could offer the best in air filtration and purification. This led us to the development of our air purifier, the LP60 Kuuboid XL Max. We used only the most efficient technology available to create the best machine for our consumers, which meant utilizing the most advanced filter technology available. We are proud to equip our LP60 Air Purifiers with the ultimate in air filtration, the VENTAcel Nelior Filter.
The VENTAcel Nelior Filter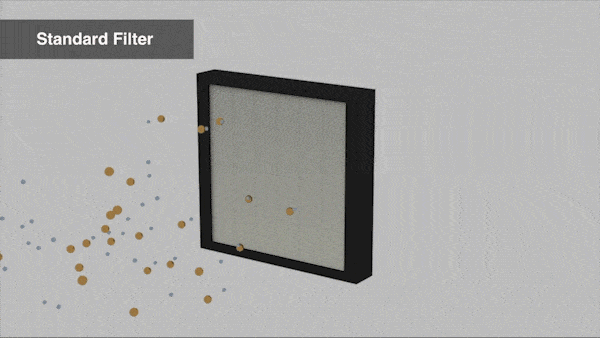 The Kuuboid XL Max contains two VENTAcel Nelior Filters, creating a dual filter system that provides exceptional air filtration. The Nelior membrane air filter is composed of a homogeneous layer of fibers with each fiber's diameter being around 1000 nanometers in size. This special composition and mechanical stability results in a lower operating pressure differential and achieves 99.95% filtration of particles greater or equal to 0.07 microns in size. This performance is unsurpassed by all other HEPA filters currently available on the market.
Consumers who are looking to rid their air of airborne pollutants will be satisfied with the filtration capabilities of the LP60 Kuuboid XL Max which helps to reduce allergies, viruses, bacteria, odors, smoke, and more.
The Quietest Air Purifier on the Market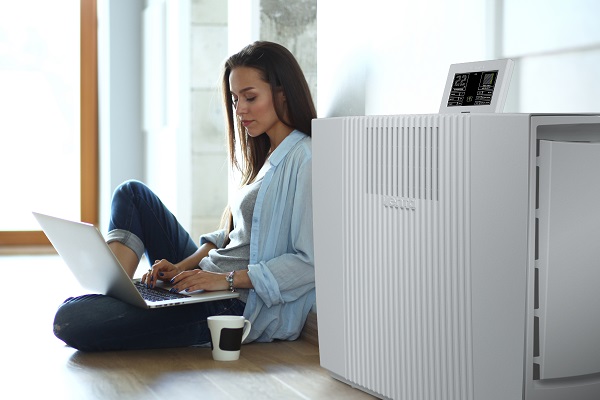 Many air purifiers available on the market today are loud and distracting, which can make them unsuitable for office spaces, bedrooms, or for homeowners with pets, who can be easily startled by loud noises. The Kuuboid XL Max is extremely quiet, operating at 51 dBA on its highest setting. This is a unique feature that makes the Kuuboid a great choice for office spaces. Office buildings are well-known for poor air quality due to airborne pollutants like ultra-fine toner particles from laser printers, dirty ventilation systems, and industrial cleaning supplies.
Another feature of the Kuuboid which makes it unique and superior to other air purifiers is the fact that it does not emit any ozone. According to the California Air Resources Board, "Ozone is a gas that can cause health problems, including respiratory tract irritation and breathing difficulty." Why would some air purifiers advertise that they produce ozone then? The ozone produced by some air purifiers is used to attach to air pollution and remove it from the air. Other organizations including the EPA have deemed ozone safe for our atmosphere to filter out UV rays but is unsafe for breathing up close.
Intelligent Design for Smarter Air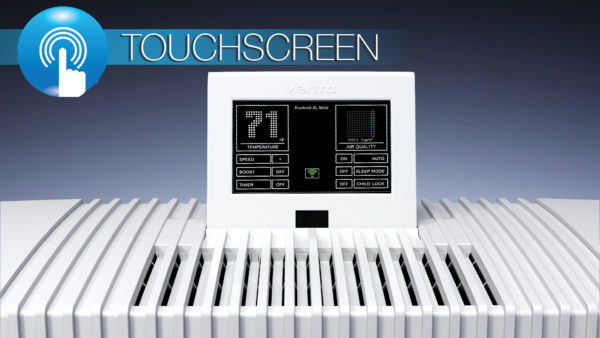 The LP60 Air Purifier features a digital touchscreen and is equipped with WiFi capabilities. This allows the consumer to easily control their indoor environment. The touchscreen shows air quality levels, temperature, and humidity readings. Other unique features include a child lock, a night/sleep mode, fan speed control, timer, boost function, and auto mode. All of these intelligent features are controllable from the Venta App.
The Kuuboid XL Max also comes with an infrared remote, which allows the consumer to turn the unit on or off and change fan speeds.
In a time when air quality has become a considerable public health issue, Venta has led the way in innovating the most efficient air quality machines. With the revolutionary VENTAcel Nelior Filter, the Kuuboid XL Max air purifier is unmatched in performance and efficiency.
Discover more about the unit in this video: