Air Purifier
Removes up to 99.995 % of allergens, particulate matter & viruses from indoor air
Clean air for your home:
The Air Purifier filters indoor air and removes even the smallest particles that naturally circulate in the air.
They draw in the ambient air, clean it and then release the purified air. The filters are structured in such a way that they catch even the tiniest airborne particles. This is how the appliance creates natural wellness zones in indoor living spaces.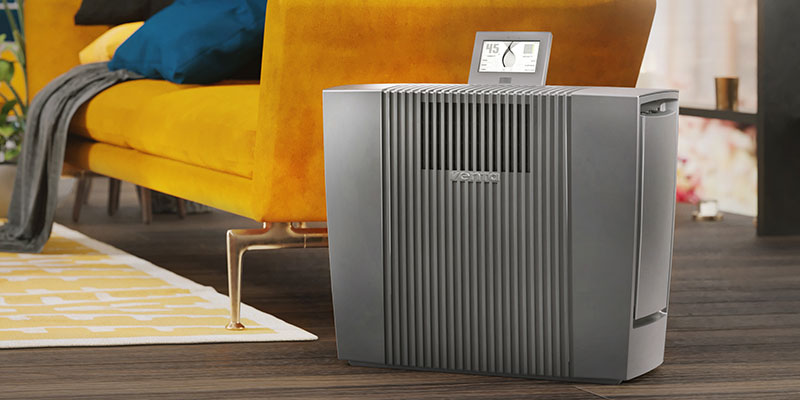 The new Venta AP902 Professional Air Purifier
The high-performance, state-of-the-art AP902 Air Purifier relies on unique Nelior Twin Air filter technology and HEPA clean room filters to provide indoor air that is up to 99.995 % free of allergens, dust and particulate matter.
patented filter technology – takes action against allergens, dust & viruses
The right combination of filters is an essential factor when using the Air Purifier to eliminate viruses, aerosols, allergens and other airborne particles. That's why we have developed the Nelior Twin Air technology for our Air Purifier, which contains four high-performance filters (2 coarse dust filters and 2 clean room filters).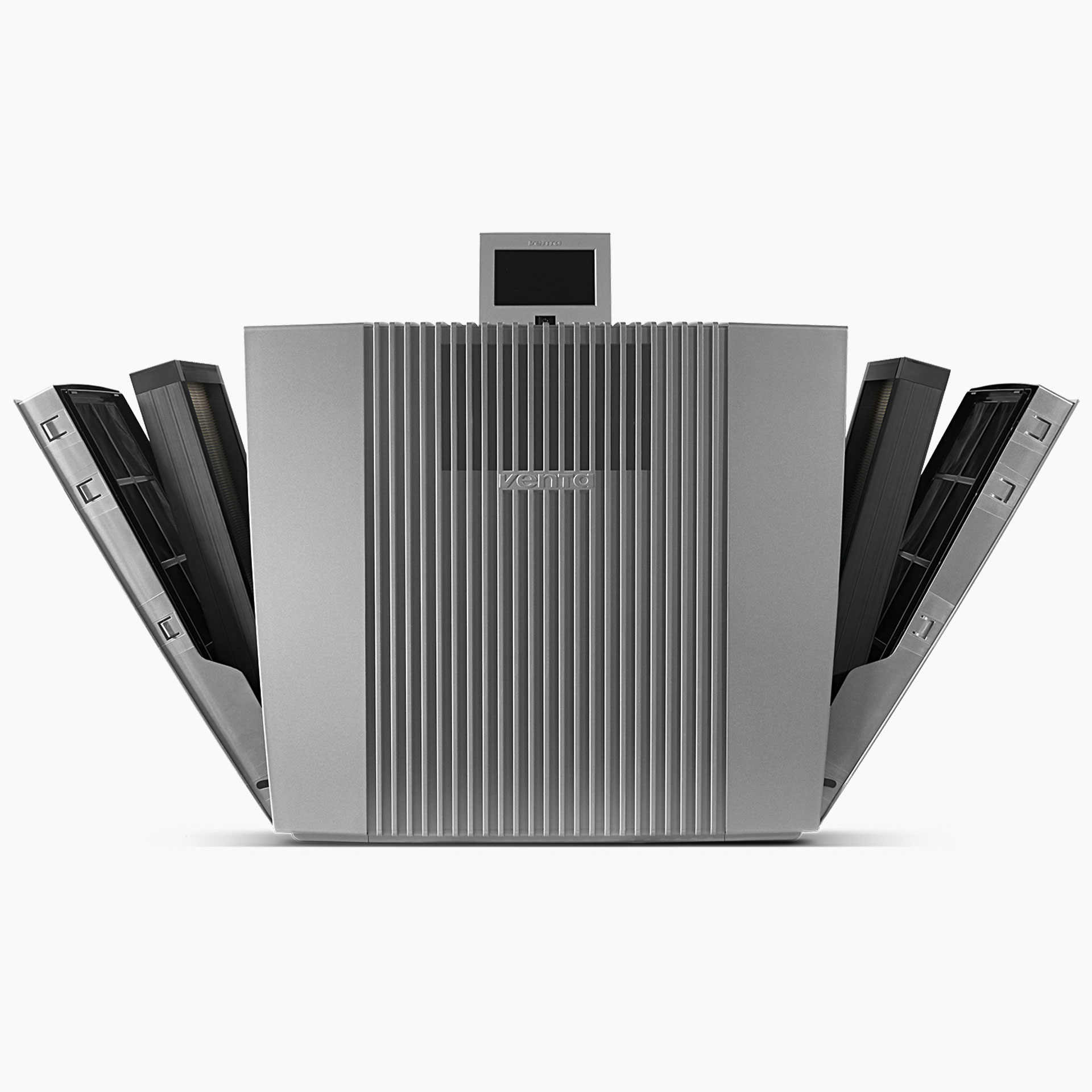 What gets filtered from the air?
The Venta air purifier uses patented filter technology to filter out 99.995% of airborne particles down to 0.07 microns in size, depending on the model:
Viruses
Aerosols
Bacteria
Mold spores
House dust & dust mites
Pollen and allergens
Pet hair
Skin flakes
Hazardous particulate matter (PM1)
automatically adjusts the purification performance to the level of pollution in the air
The highly sensitive sensor technology measures, monitors and immediately controls air quality by automatically reacting to excessive levels of harmful airborne substances. The Air Purifier automatically adjusts its cleaning performance to correspond to the situation.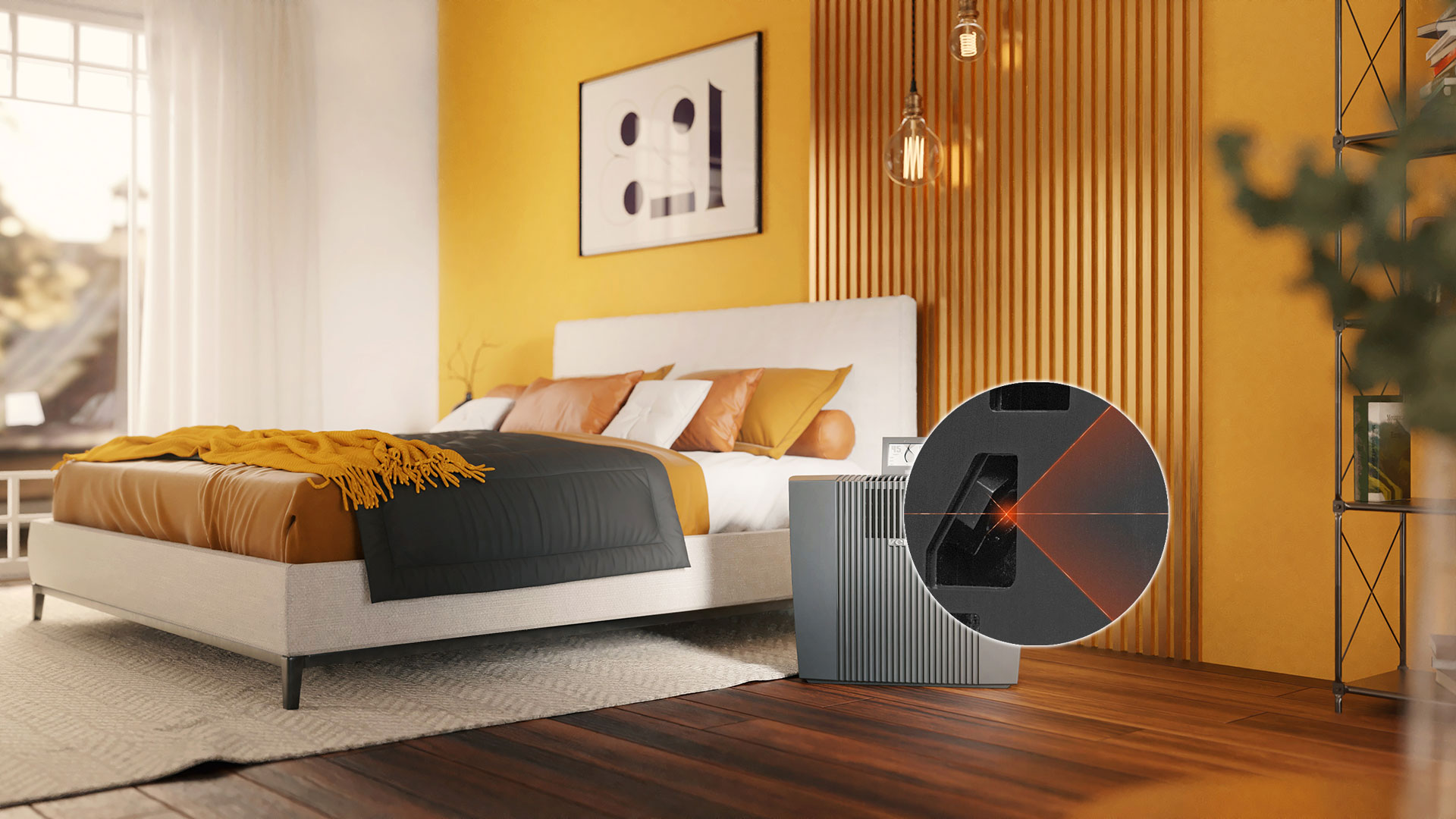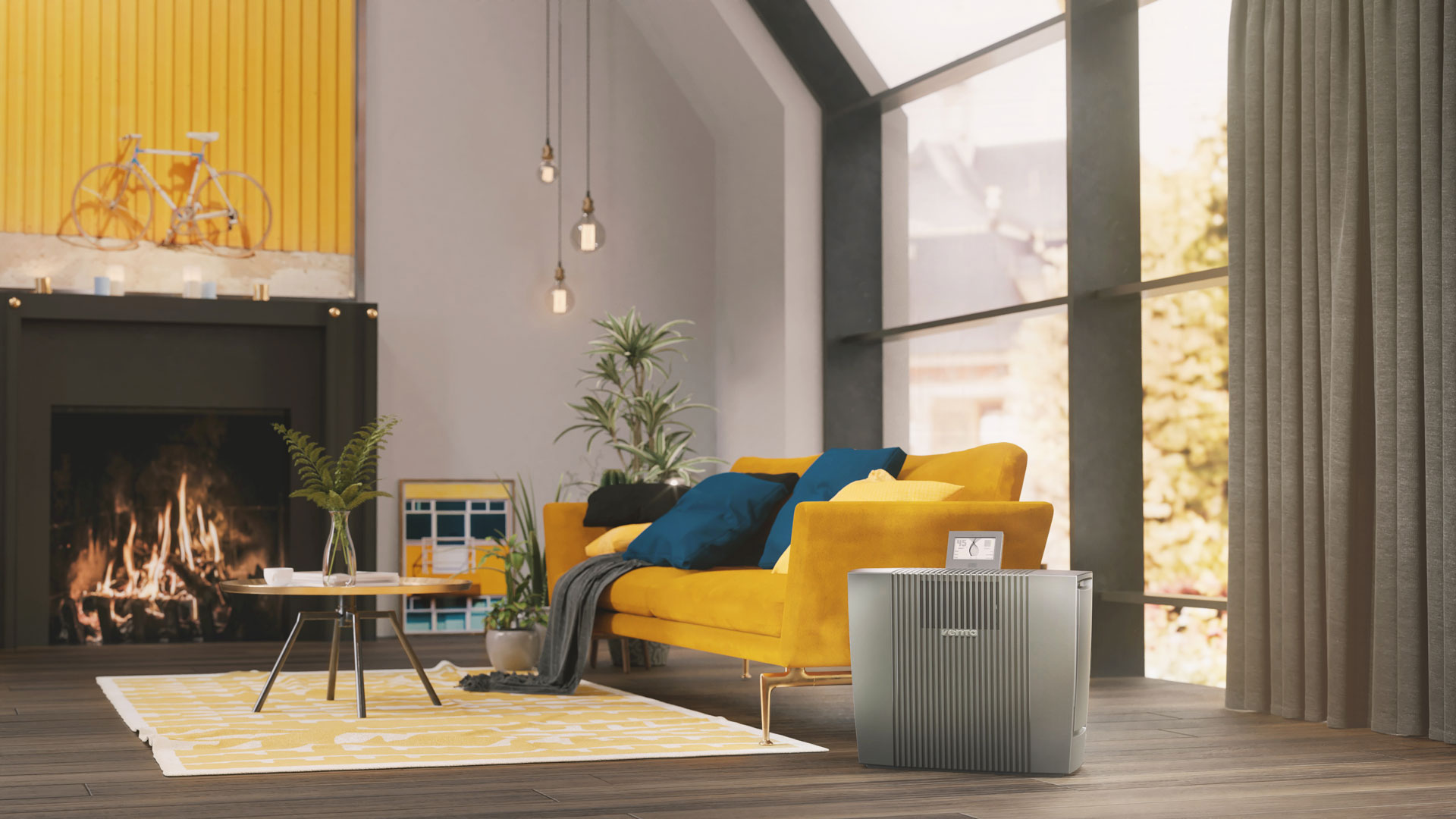 The strong, silent solution for large rooms
The capacity of the Air Purifier must correspond to the room size for it to efficiently remove airborne particles from indoor air. We have designed extremely quiet appliances for large rooms up to 800 square feet, to enable the use of our Air Purifier in as many rooms as possible.
Who needs an Air Purifier?
Our Air Purifiers have been developed especially for allergy sufferers and individuals with breathing difficulties to help bring wellness and comfort to your home.
Everything in focus and under control
On the modern and user-friendly interactive touch display or, depending on the device, also via the Venta Home App, you always have everything in sight and can easily and conveniently operate the device and monitor the indoor air quality.
Tap with your fingertip to change settings and select sleep mode, automatic mode, child lock or the various power levels from 1-5.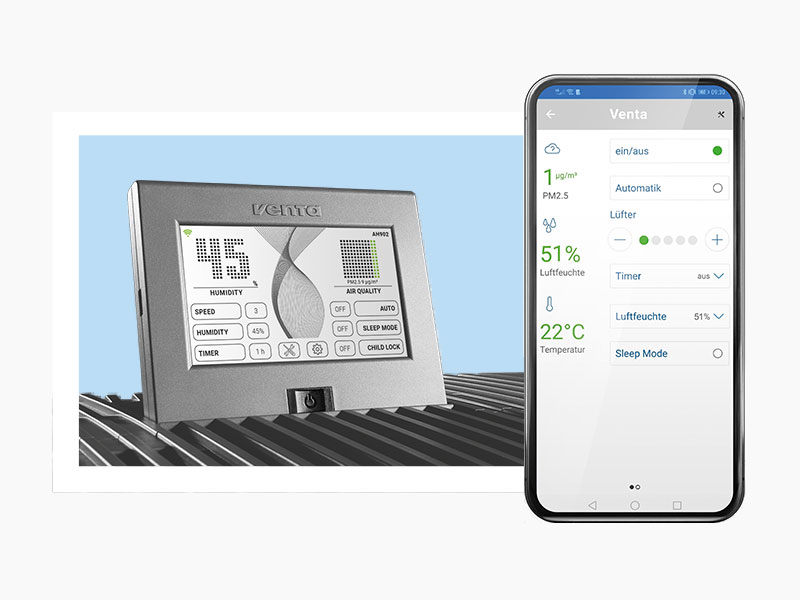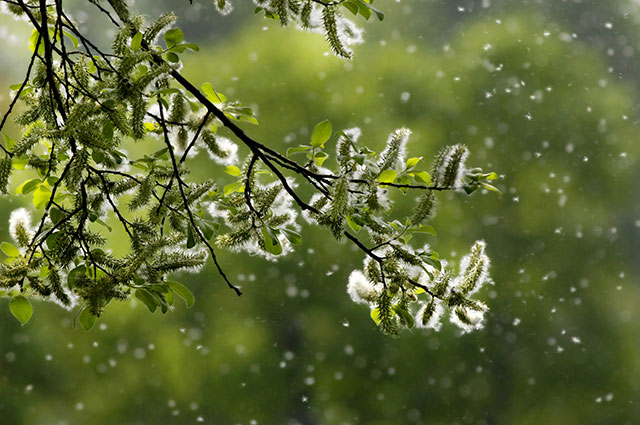 Relief from pollen and allergens
Seemingly harmless particles, like pollen, grass, dust or pet hair can often make life difficult for allergy sufferers, even at home. Our Air Purifiers have been developed especially for allergy sufferers and individuals with breathing difficulties.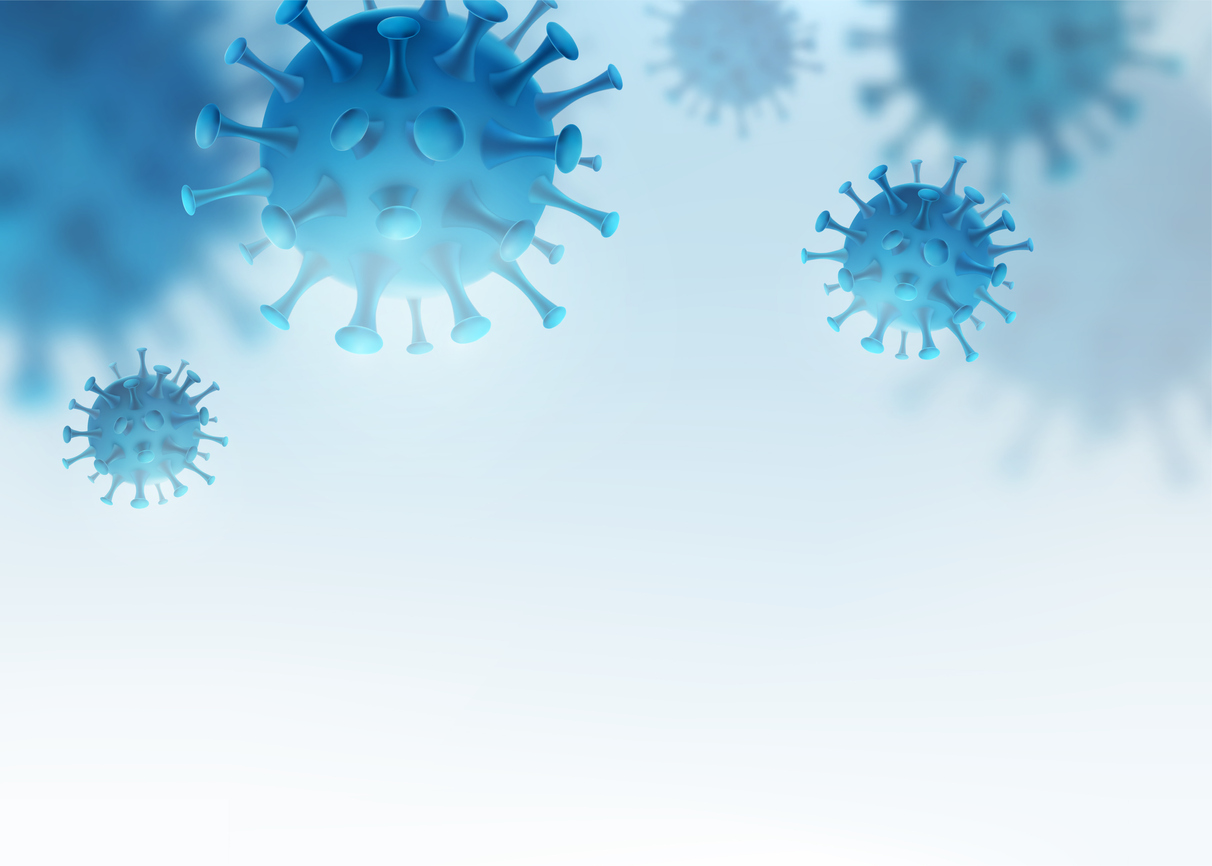 Air Purifiers eliminate viruses & aerosols
When we breathe, speak or cough, we release aerosols, or airborne droplets, into the air. These can contain invisible, infectious viruses. A Venta Air Purifier helps filter out viruses and aerosols from indoor air.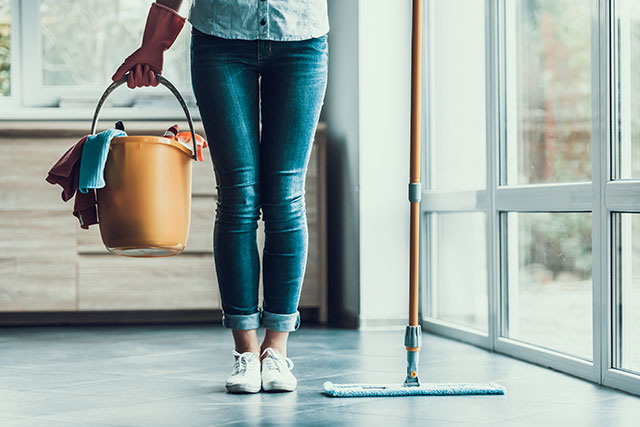 Air Purifiers handle all kinds of dust
For allergy sufferers, dust is a real problem. But even high levels of particulate matter can bother us. An Air Purifier helps eliminate both: house dust and hazardous particulate matter (PM1) as small as 0.07 µm.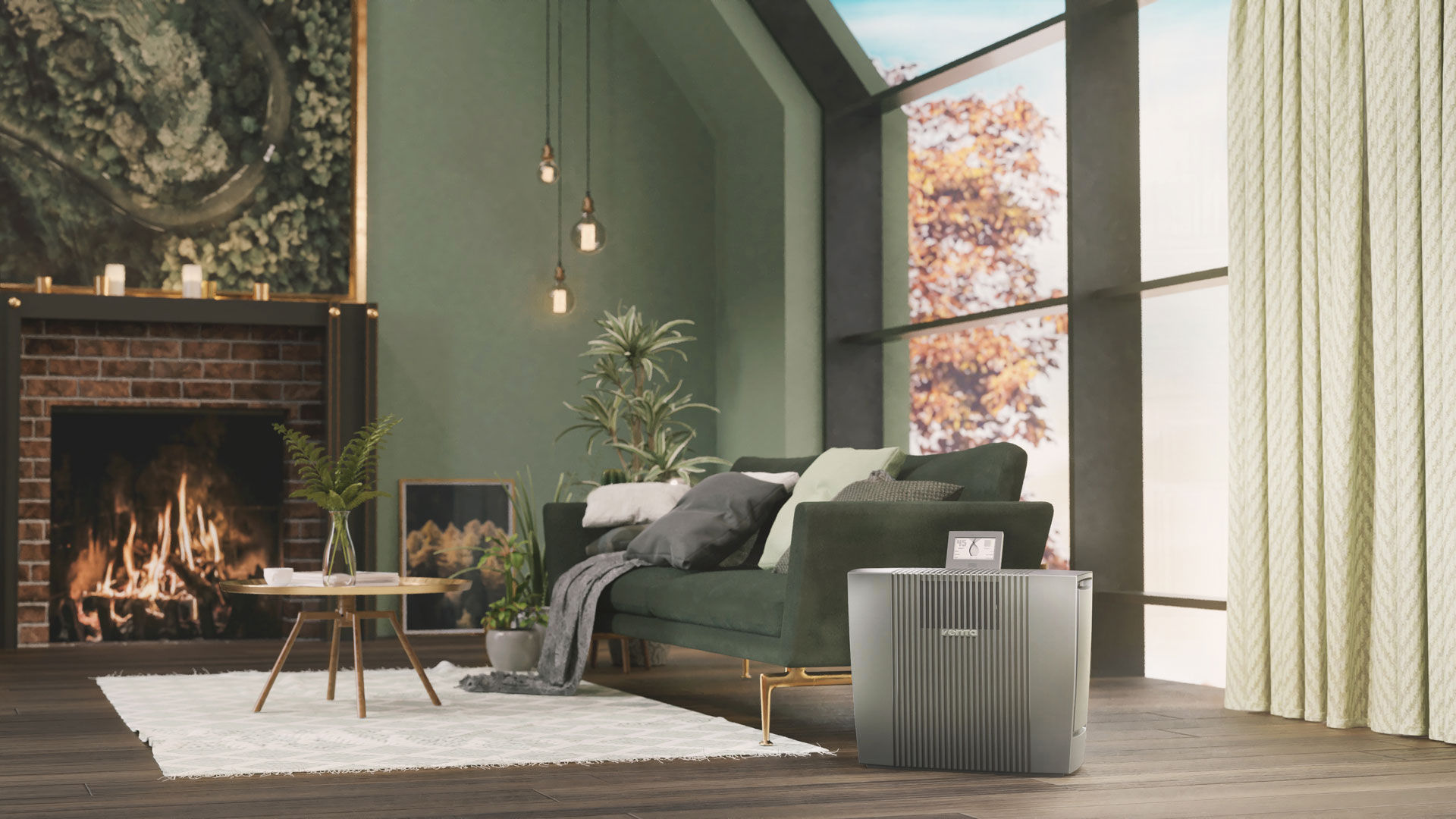 Dual function: combined humidification and air purification: AH902 Professional Hybrid
The state-of-the-art AH902 Hybrid combines the two technologies evaporative humidification and air purification. It's like having two appliances in one.